Myles Hendrik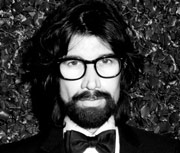 Raised on a healthy diet of classics — form Iggy Pop to James Brown, The Velvet Underground to Stevie Wonder, Otis Reading to The Beatles, Fleetwood Mac to Marvin Gaye — Myles Hendrik has long been a person who lives and breathes music, playing in bands for the most of his life in addition to being a hardcode aficionado. His career as a an internal DJ, however, started almost on a lark, after playing the backyard party of a friend who suggested he consider going pro. What soon followed was a residency at LA's Standard HOtel, where he found himself spinning the dance-worth sets he would come to be known for — a cross pollination of nu-disco, rock, hip hop, '60s nostalgia, fun, soul, and indie cuts for a slew of A-listers, tastemakers and the city's hip kids.
With the doors to the DJ world flung open Hendrik quickly became one of the most south-after DJs in Los Angeles, playing for a laundry list of the most recognizable names in music and entertainment; Angelina Jolie, Brad Pitt, Leonardo DiCaprio, Mick Jagger, Tom Hanks, Harvey Weinstein, Rihanna, Kings of Leon, Radiohead, Daft Punk, LCD Soundsystem, Prince, Florence + The Machine, and Phoenix. in 2011, Hendrik adulated form rock royalty to the real real deal. playing a star-studded BAFTA soiree for Prince William and Miss Kate Middleton. And, in a city home to countless award ceremonies, Hendrik has leant his musical expertise to after-parties for the Oscars, Emmys, Golden Globes, and the Grammys.
With Hendrik's debonair flair and love of slim-tailored suit, it wasn't long before the fashion industry took notice of his panache. He has curated runway show mixes for some of the biggest names on the catwalk: Marc Jacobs, Stella McCartney, Dolce & Gabanna, Michael Kors, and Vogue's CFDA Fashion Costume National, Vivienne Westwood, Alberta Ferretti, Burberry, and the Opening Ceremony. The advertising and editorial worlds have also taken note; Hendrik counts Vogue, W Magazine, Rolling Stone, Vanity Fair, Nylon, Dom Perignon, and Absolut as clients.
It's going to be an exciting year for Hendrik, with planned tours through Europe and Asia, as eel as collaborations with Armani, AMC, and continued relationship with Vogue. He's currently working on a DJ side-project called White Light/ White Heat with Nick Valensi and Fabrizio Moretti from The Strokes, as well as new musical project, which he is currently in the studio recording. And, to delight Los Angeles, Teddy's at The Roosevelt is back, and Hendrik along with it.
Get ready, world. You're going to be seeing a lot more of Myles Hendrik for the foreseeable future. Hope you brought your dancing shoes.