Bruce Vaughn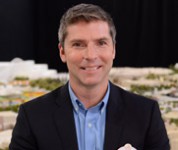 Bruce Vaughn serves as the co-executive leader of Walt Disney Imagineering (WDI), the creative delivery arm of Walt Disney Parks and Resorts, in partnership with Chief Design and Project Delivery Executive Craig Russell. In his role, Bruce leads the integrated creative teams of WDI, Walt Disney Creative Entertainment and WDI Research and Development to drive excellence in product development and innovation. His responsibilities span theme park attractions and special effects, innovative theater experiences, and new business opportunities that leverage invented and emerging technologies.
Vaughn joined WDI as a senior technical specialist. He spent time as a writer for Theme Park Productions and associate media producer for the renovation of Spaceship Earth at Epcot. Since then, Bruce has been involved in disciplines across The Walt Disney Company, including feature animation, television, theatrical, music, Internet, consumer products and location-based entertainment.
Bruce has served as assistant professor at UCLA's Theater, Film and Television School, where he teaches "Imagineering: The Art and Process of Entertainment Design." He is co-chairman of the Disney Research Council, which oversees the group that performs a broad range of research and technical innovation for several areas of The Walt Disney Company. Bruce has led R&D teams that received three Themed Entertainment Awards: Pirates of the Caribbean: Battle for Buccaneer Gold (best attraction), Stitch's Photo Phone (best use of creative technology), and Lucky the Dinosaur (best use of creative technology).
Prior to joining WDI, Bruce worked on the technical staff of Associates & Ferren in New York for five years where he contributed to the development and execution of special effects for various media projects. He has received screen credits on several feature films, including "Star Trek V: The Final Frontier" (assistant camera, live action effects unit) and "Imposter" (future-technology consultant).
Bruce graduated cum laude from Colgate University in New York in 1988 with a bachelor's degree in English literature and a minor in art history.