Charly & Lisa Kleissner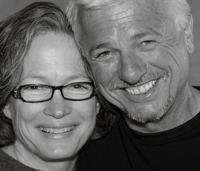 Lisa Kleissner is the President of the KL Felicitas Foundation, a family foundation co-founded with her husband, Charly, in 2000. KL Felicitas Foundation is dedicated to supporting programs that: enable social entrepreneurs worldwide to develop and grow economically sustainable, scalable enterprises with high measurable social impact, and; advocate the Foundation's sustainability, mission, and social investment strategy with foundations and socially minded individual investors. The KL Felicitas Foundation was named by the World Economic Forum as one of two foundations providing portfolio investment leadership in impact investing in the US.
Lisa is a frequent speaker, advocate and author on topics related to leveraged and holistic approaches to philanthropy and impact investing. She is a co-founder and treasurer of Toniic, a global impact investing platform; executive board member and Finance Chair of The Philanthropy Workshop, an international trans-formative donor education program; co-founder and board member of Social-Impact International, an incubator of capacity building programs for social enterprise, and co-founder of Hawaii Investment Ready, a capacity building program for indigenous and island social enterprise.
Raised in Hawaii, Lisa attended the Kamehameha Schools and the University of Hawaii at Manoa graduating with a BArch in Environmental Design. She was Vice President of an architectural firm in Hawaii doing work in Asia and the Pacific Basin and held project management positions at Apple Computer and Borland. Prior to co-founding the KL Felicitas Foundation, she was the president of The Kleissner Group, providing full service high-tech and bio-tech facility solutions for start-ups in Silicon Valley.
Recent publications authored by Lisa include:
The Toniic E-Guide to Global Early-Stage Impact Investing The Toniic E-Guide to Impact Measurement
Creating a Better Future Through Transparency
Noteworthy publications on the work of the KL Felicitas Foundation include: Evolution of an Impact Portfolio: From Implementation to Results
Case Study: KL Felicitas Foundation