Chris Clarke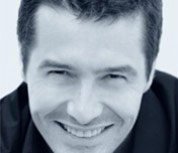 Chris Clarke is an Australian born social entrepreneur who now resides in New York City.
After leaving Monash University where he studied finance; his career took a creative turn and he began directing theatre.
By the age of 23 he had produced, directed and written a feature film that was nominated by The Australian Film Institute for multiple awards.
That year in New York he met Paul Michaels (Global CEO of Mars Inc.) but back then Group Marketing Director of Mars USA. Together they created the Blue M&M's campaign, which went on to be awarded one of the best campaigns of the decade in the 90's.
This led him to launch his first company, Pure Creative, which quickly became one of the hottest ad agencies in the world, working with clients such as Coca-Cola, Mars, P&G and Australian Tourist Commission.
After 7 successful years he sold Pure Creative, with 7 offices throughout Asia, to Leo Burnett. The company remains strong today.
His next launch was Virtual Communities, whose sole purpose was to bridge the gap between the information rich and information poor. He galvanized the Trade Unions, Churches and Governments in Australia to deploy an innovative and integrated direct to home solution which included a bundled PC, IT training and Internet connectivity. In its first year the company sold more PC's than the traditional trade combined.
Virtual Communities sold its Internet assets to a leading Telco in Australia after a few years, but continues today developing the landmark Luna Park site in Melbourne among other projects.
In 2002, Chris moved from Australia to Shanghai where he developed Nitro, a fully integrated creative, innovative and digital agency. He decided to set the headquarters in Shanghai, despite warnings from many that such a company would fail. Within 3 years, Chris had managed to create a highly successful global network with clients including Mars, Unilever, Coca-Cola and Nike.
In 2008, Nitro was the most awarded agency in the history of Cannes.
That same year Chris merged Nitro into the Sapient group to create SapientNitro. The biggest digital ad agency in the world and the biggest independent ad agency. Chris was Global Chief Creative Officer and Executive Chairman.
By January 2011, SapientNitro had 9,500 people in 35 offices around the world with a market cap of over $2billion. Not bad for a guy that landed in China with an Australian mobile phone and a big dream that no one believed!
SapientNitro today remains a powerhouse in the industry.
But Chris's biggest dream is just beginning. A day after he resigned from 10 years at the helm of the company he founded, he created Pure Growth Partners.
Pure Growth's goal is to influence change in the business world by successfully launching innovative brands in partnership with leading celebrities and with every transaction gives back to some of the most important and influential non-profits in the world. Chris states; "If we get it right, the new wave of entrepreneurs will follow our model. When this happens the world really begins to change".
Pure Growth's first product launch was Street King – an energy shot in partnership with rap super star Curtis "50 Cent" Jackson. In 16 weeks since hitting the market, Street King is now in 50,000 stores including 7-11 and GNC nationally and coming to CVS, Walgreens, Rite Aid nationally.
It is number two in the market.
With every Street King energy shot sold, a meal is provided for a child in need through the United Nations World Food program. Street King has already funded millions and millions of meals.
Chris sits on a number of charity boards including Malaria No More, an organization who has been instrumental in leading the fight against Malaria, the biggest child killer in the world. Chris is also active in the The Hawn Foundation's Mind Up, which helps transform children's lives by providing them with opportunities to grow and succeed through special school programs.