Danielle Posa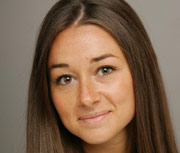 Danielle Posa is a Consultant for Gallup. Danielle's mission is to connect the world's private and public sector leaders with Gallup's research on wellbeing. Her efforts encourage leaders to broaden their focus from traditional metrics such as GDP to incorporate measures that reflect the quality of life of the people they lead and influence. Her key areas of focus include creating strategies and interventions to enhance engagement and wellbeing of corporations and cities, developing a platform for the empowerment of women through entrepreneurship, and improving the wellbeing of people who have been diagnosed with cancer. Danielle also serves as the liaison between Gallup and Gallup Senior Scientist Deepak Chopra, with whom she works with very closely on various initiatives.
Before joining Gallup, Danielle worked on a start-up venture to develop a website to help students enter college. She also worked as a sales representative for Vector Marketing, a direct sales company, where she broke the national record in monthly sales. She later became the District Sales Manager and ran the New York division's pilot office, one of the top offices in the country.
Danielle received her bachelor's degree in international business and marketing from the Robert H. Smith School of Business at the University of Maryland. A cancer survivor, Danielle has raised more than $30,000 as a triathlete for The Leukemia and Lymphoma Society's Team in Training program and currently volunteers for the Make-A-Wish Foundation.