Gerard Senehi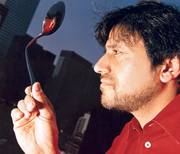 He is passionately engaged with the concrete application of its vision – which combines an understanding of human evolution and development with a knowledge of the inherent perfection of life – to actualize and define the leading edges of human culture and potential in order to find appropriate responses to the individual and global challenges that we face, together.
Fueled by this impulse to create the future, Gerard also co-founded the OneVoice Coalition, is an active board member of the Source of Synergy Foundation, supports a Transformative Philanthropy Initiative, is engaged with bringing the topic of meaning and purpose into higher education and meets ongoingly with philanthropists and leaders to deepen the conversation of what's needed for our times.
Gerard is also an internationally acclaimed psychic entertainer who has appeared on television worldwide. His demonstrations have captivated global leaders, gently shaken up the most sophisticated audiences, and completely perplexed top scientists. Gerard likes to use his ability to unseat people's fixed ideas to bring attention to the power of the Unknown.