Isabel Molina Botran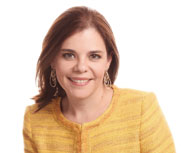 Born and race in Guatemala move to the United States to pursue college education where she earned a bachelor's degree in business administration and an MBA with specialization in finance at Harvard University. Worked at Safra Bank in New York for 8 months to get the flavor of the financial world and then move back to Guatemala to work in the family business. She was CFO of Agro Industrias HAME and also was a member of the board of directors of Ingenio Santa Ana. After 8 years she retired from the executive role in the company (HAME) and stay in the board of directors and she moved to work in what she called her true love, RUM!!!!! She is now the first female member of the executive board of directors of Industrias Licoreras de Guatemala. She is actively involved in Fundacion Licorera which is the social arm of the company and its main focus is to work with women, the petate weavers and with children's education.
She is also involved in several social causes, she is a founder-member of Vital Voices Guatemla working to empower women in the country, also she is a board member of "Asociacion de Amigos del Hermano Pedro" that focuses in helping the third biggest nonprofit hospital in the country, and is a board member of "Fundacion de niños quemados de Guatemala" being its emphasis in helping burned kids.