Jack Andraka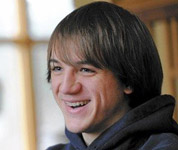 Jack Andraka is a Maryland high school student who at age 15 created a novel paper sensor that detects pancreatic, ovarian, and lung cancer in 5 minutes for as little as 3 cents. He conducted his research at Johns Hopkins University and is the winner of the  and was Mrs. Obama's guest at the State of the Union Address. He was named a Champion of Change by President Obama for his work to break down scientific journal paywalls.
He has spoken at TED Long Beach, over 16 TEDx events including the House of Parliament, is the youngest speaker at the Royal Society of Medicine and has been featured on 60 Minutes, World News Tonight with Diane Sawyer, NPR Marketplace, Popular Science, BBC, Al Jazeera and the Colbert Report as well as in award winning documentaries including "You Don't know Jack" by Morgan Spurlock. Jack is currently working with a team of teens (Gen Z) on the Qualcomm Foundation Tricorder X Prize and speaks about open access, STEM education and universal Internet availability.
He is also on the national junior wildwater kayaking team, has won awards at multiple national and international math competitions.