Jeremy Moon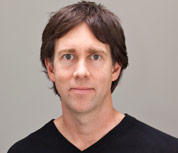 A chance encounter launches an international brand.
In 1994, 24-year-old marketing graduate Jeremy Moon was travelling around his native New Zealand with his American girlfriend when he made a discovery that changed his life.
A merino grower showed him a prototype fabric he'd developed from 100% merino wool. This soft, non-itch, lightweight fabric was a world away from the itchy, scratchy wool Jeremy had grown up with. Jeremy immediately saw the potential of a natural, biodegradable fabric that combined the benefits of wool and synthetics.
The discovery inspired him to quit his research job and mortgage his house to launch Icebreaker and pioneer a new retail category: merino outdoor clothing. Within a decade, Icebreaker had grown to become New Zealand's leading outdoor clothing producer and exporter.
Jeremy directs all major operating and business strategies from the company's global headquarters in Wellington, New Zealand. A leading figure in the sustainable business movement, Jeremy was named a Member of the New Zealand Order of Merit (MNZM) in 2008 for his services to business. Jeremy chairs the New Zealand Government's Better by Design group, which helps companies to become competitive internationally by integrating design principals across their business. He is also a member of the Government's Growth and Innovation Advisory Board.
In 2009, Jeremy was included in Sporting Goods Business's '40 Under 40′ awards program, which honours future leaders of the sporting goods industry. Jeremy attends the invitation-only TED (Technology, Entertainment and Design) conferences, and is a leading speaker on sustainable business practices and on the role of design and innovation in business. Before launching Icebreaker, Jeremy was a project manager for CM Research. He holds a bachelor of commerce and a master of commerce in marketing from Otago University.
Jeremy loves diving, mountain biking, wine, long dinners with friends, and introducing his three daughters to hiking, skiing and other outdoor adventures.
Click here for Jeremy's approach to leadership – excerpt from the Soul of Leadership by Deepak Chopra.