Shahrzad Rafati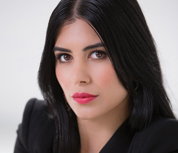 Shahrzad Rafati is the founder and CEO of Broadbandtv Corp. one of the web's largest aggregators and managers of video content. Shahrzad is credited for constructing creative new business models for video on the web that has helped content owners address copyright infringement and piracy issues in a manner that has not had a negative impact on fans ability to share and curate content.
Shahrzad has overseen the development of the company's strategic vision and tactical execution with key partnerships with major media/technology players such as Google and the National Basketball Association.
In 2011, Shahrzad was recognized by Fast Company as one of the 100 Most Creative People in Business as well as one of Canada's most exciting emerging innovators in the media and technology space.
Shahrzad immigrated to Canada as a teenager and completed her B.Sc. in Computer Science at the University of British Columbia and studied French language at the prestigious Sorbonne University in Paris, France.
Shahrzad's is a true social entrepreneur and has been active in her local community with non-profit initiatives benefiting world causes. She advises other entrepreneurs and is a founding partner and board member of the Chopra Yoga Centers.
Shahrzad's personal vision and mandate is one of constructive professional achievement and social betterment. She strongly feels that the two concepts are not mutually exclusive.