Steven Steinhubl, MD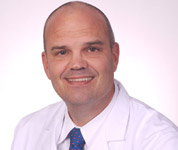 Dr. Steinhubl is the Director of Digital Medicine at the Scripps Translational Science Institute and a clinical cardiologist at Scripps Health.  He received his undergraduate training in engineering at Purdue University, graduate training in physiology at Georgetown University, and his medical degree at St. Louis University. Steve's internal medicine residency training was completed at David Grant Medical Center at Travis Air Force Base and his cardiology and interventional cardiology fellowships were at the Cleveland Clinic Foundation where he was also Chief Cardiology Fellow. Prior to joining Scripps Steve was the Director of Cardiovascular Wellness and the Medical Director for Employee Wellness for the Geisinger Healthcare System.  He was also the Cardiology Fellowship Director, a clinician-scientist and a staff cardiologist there.
Dr.  Steinhubl's research activities have covered a broad range of topics in cardiology with a primary early focus on trials of novel antithrombotic therapies for the treatment and prevention of cardiovascular disease, and more recently on the application of an integrated systems-based approach to the optimal identification, communication and treatment of an individual's risk for various manifestations of cardiovascular disease. He has been principal investigator or helped lead over a dozen large-scale, international randomized trials.  At Scripps Translational Science Institute he is leading a number of trials focused on developing the evidence base necessary to establish the role of mobile health technologies in the transformation of the healthcare system.  Steve has authored nearly 200 peer-reviewed manuscripts as well as numerous book chapters, and abstracts.