Terrence J. Roberts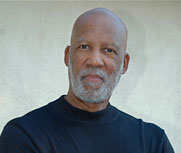 Terrence J. Roberts, Ph.D., one of the "Little Rock Nine" who desegregated Central High School in Little Rock, Arkansas in 1957 was a 15 year old eleventh grader when he joined eight other students and became one of the first nine black students to go to a formerly segregated public high school in Little Rock.
In his last university assignment Dr. Roberts was co-chair of the Master's in Psychology Program at Antioch University.  A graduate of California State University at Los Angeles (BA), and UCLA (MSW), Dr. Roberts obtained his Ph.D. in psychology from Southern Illinois University in Carbondale, Illinois.
He is the author of LESSONS FROM LITTLE ROCK, a memoir, and SIMPLE NOT EASY: Reflections on Community, Social Responsibility, and Tolerance. (For more information see terrenceroberts.com)
A much sought after speaker, Dr. Roberts also heads a management consultant group dedicated to improving human relations in the workplace.  From 1998 to 2002  he was the official desegregation consultant for the Little Rock, Arkansas School District, and continues to provide similar services to school districts around the nation.  Listed below is a short statement about one of the presentations he provides.