Board of Directors
THE CHOPRA FOUNDATION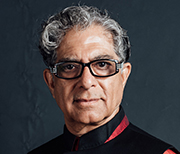 Deepak Chopra, MD
CHAIRMAN OF THE BOARD, FOUNDER & DIRECTOR
Deepak Chopra MD, FACP, founder of The Chopra Foundation, a non-profit entity for research on well-being and humanitarianism, and Chopra Global, a modern-day health company at the intersection of science and spirituality, is a world-renowned pioneer in integrative medicine and personal transformation.  Chopra is a Clinical Professor of Family Medicine and Public Health at the University of California, San Diego. He is the author of over 89 books translated into over forty-three languages, including numerous New York Times bestsellers. His 90th book and national bestseller, Metahuman: Unleashing Your Infinite Potential (Harmony Books), unlocks the secrets to moving beyond our present limitations to access a field of infinite possibilities. TIME magazine has described Dr. Chopra as "one of the top 100 heroes and icons of the century."
www.deepakchopra.com
www.choprafoundation.org
www.chopra.com
www.jiyo.com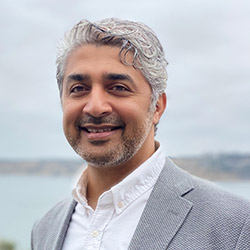 Poonacha Machaiah
EXECUTIVE DIRECTOR / CHIEF EXECUTIVE OFFICER
Poonacha Machaiah is a global leader among a new breed of social entrepreneurs, having chosen to apply his corporate expertise from 25 years as a business executive in multiple Fortune 100 companies and entrepreneurial initiatives to addressing societal and wellbeing challenges.
Poonacha is the CEO of The Chopra Foundation, a 501 (c) (3) organization dedicated to improving health and well-being, cultivating spiritual knowledge, expanding consciousness, and promoting world peace. He is the co-founder of the Never Alone Movement for Suicide Prevention and Mental Health along with both world-renowned mind-body medicine pioneer and New York Times best-selling author Deepak Chopra, M.D, actress and humanitarian Gabriella Wright.
Poonacha has launched the Warrior MonkTM brand targeted at creating a positive societal shift through the compassionate transformation of humankind (www.thewarriormonk.com). Poonacha is the founder of Wellbeing Tech, a leading technology innovation company that has deployed transformative wellbeing solutions such as the hyper-local neighborhood app i.e. GABL (www.gabl.global) and Remote Assistance Management platform for providing assisted reality with Glass Enterprise edition (www.wellbeingtech.com/ramp)
As a serial entrepreneur, he has co-founded startups such as Jiyo, Deepak Chopra InnerSpace, and Qyuki. He has also held senior management positions at Nortel, Iridium, Motorola and Sasken.
He holds an MBA from the College of William and Mary, and a Bachelor of Science in Computer Science and Engineering from the B.M.S. College of Engineering.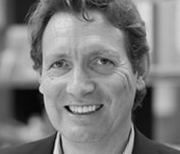 François Ferré, Ph.D.
DIRECTOR
Dr. François Ferré is the co-CEO of ALMA Life Sciences LLC, an investment and consulting firm. He is also the co-Chairman and co-Founder of AltheaDx, a privately-held company (a spinoff of Althea Technologies) focusing on the development of pharmacogenomic tests. Dr. Ferre was the CEO of AltheaDx from 2010 to June 2013.  Prior to AltheaDx, Dr. Ferré co-founded Althea Technologies and served as co-CEO from 1998 until 2008. He was a Director of Althea Technologies until April 2013 and has recently been appointed a Director of Ajinomoto-Althea after the acquisition of the company by Ajinomoto.  He also currently serves on the board of a number of private companies such as Biomatrica and Portable Genomics. He is co-Chairman of the Advisory Board of MD Revolution.
Dr. Ferre is also a Trustee of the Keck Graduate Institute, Claremont CA. Dr. Ferré was the winner of the 2005 E&Y Entrepreneur of the Year award in the Life Sciences category. Dr. Ferré is a leader in gene quantification and biomarker development in the fields of AIDS and Cancer research.
In collaboration with Dr. Jonas Salk, he developed the first FDA validated quantitative PCR test for the assessment of HIV pro-viral DNA load in AIDS patients. Dr. Ferre has published several authoritative reviews on these topics, including the co-edition of a bestseller book on PCR with Nobel Prize winner, Dr. Cary Mullis. He received his Ph.D. in molecular oncology from the Pasteur Institute, France, and did his post-doctoral training at the University of California, San Diego.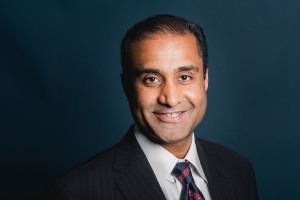 Ajay K. Gupta
DIRECTOR
With his conviction about the importance of independence, transparency, and objective advice, Ajay K. Gupta actively co-collaborates with high-net-worth individuals in developing and implementing cohesive strategies that address their financial, investment, insurance, tax, charitable, and estate planning needs.
Ajay K. Gupta serves as the Chief of Investment Strategy and board of director at Creative Planning, Inc., an SEC Registered Investment Advisor (RIA) with clients in all 50 states and abroad.   Prior to joining Creative, Gupta was founding principal of Gupta Wealth Management (GWM), a San Diego-based RIA after having lead San Diego wealth management team for UBS.
Ajay earned a Bachelor of Commerce with a major in finance from Concordia University.  He attained the Certified Investment Management Analyst (CIMA®) designation after successfully completing the Advanced Training Program at the University of Pennsylvania's Wharton School of Business.  Gupta also completed the Private Equity and Venture Capital (PEVC) program at Harvard Business School and the Certified Private Wealth Advisor Education Program at the University of Chicago's Booth School of Business.
Ajay lives in San Diego, California, with his wife, son, and twin daughters.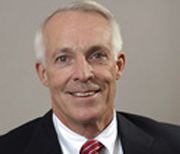 Paul Johnson
TREASURER & SECRETARY, DIRECTOR
Paul Johnson is a former managing partner of Johnson O'Connor Feron and Carucci, LLP in the greater Boston area. He has extensive experience in business advisory services, high net worth strategic planning, and estate and trust services. Paul recently completed service for the maximum terms as a member of the Board of Trustees of Hartwick College where he was chair of the Financial Affairs Committee.
Paul is a member of the Board of Directors of a number of not-for-profit organizations including Bethany Homes, a national leader in senior housing with services where he serves as Treasurer and chair of the Finance Committee, the Boston Cardiac Foundation, the Strazzula Foundation in Boston and other organizations, including the Chopra Foundation.
Paul has committed significant efforts over the past 21 years as sole Trustee of a private foundation that provides education grants to inner-city youth annually, supports summer enrichment program opportunities for students, and provides funding for youth development and education programs that have deep, lasting impact. His foundation also provides annual grants to organizations working to build and revitalize neighborhoods into healthy, happy places to raise families. His efforts providing much needed financial resources directly benefit the lives of parents and their children in the most underserved neighborhoods of the greater Boston area.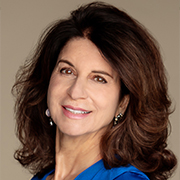 Carla DiMare
CORPORATE COUNSEL FOR THE FOUNDATION
Carla DiMare is a lawyer with a private practice in Rancho Santa Fe, California.  A graduate of Boston College and New England Law-Boston, she has handled a variety of cases in state and federal court involving sexual abuse, civil rights violations, personal injury, employment disputes and sexual harassment, Title IX, the Military and State Secrets Privilege, First Amendment rights, whistle blower claims, cults and coercive control groups, trade name infringement, and more. Carla's clients have included businesses, survivors, police officers, wounded warriors, high-profile people, and low-income people. Her articles have been published in the Huffington Post, the Los Angeles Daily Journal and more. Carla has worked with Deepak for over twenty-years.  She is also a Trustee for the County of San Diego Law Library and is an avid supporter of libraries.  She also devotes time as a member of the Board of Directors for the Graves' Disease and Thyroid Foundation, and the Rancho Santa Fe Seniors Center.  She has committed significant time throughout her career helping others try to achieve justice and equality and is grateful to be part of the Chopra Foundation and its efforts to empower and guide individuals to help create a better world.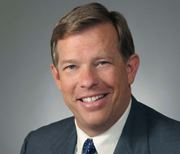 Michael D. Schley
CORPORATE COUNSEL FOR THE FOUNDATION
Mike Schley is outside general counsel to The Chopra Foundation.  He has almost four decades of experience in financial, corporate, nonprofit, and business law. He advises charities, private foundations, and other exempt organizations on corporate governance and tax matters, and has helped write California nonprofit legislation. Mike has authored federal banking regulations, has been general counsel to a NYSE-listed financial institution, and has practiced with firms in New York, Washington, DC, and Santa Barbara. He has written or contributed to a report to Congress on the S&L crisis and law journal articles on banking, business, and tax-exempt topics, and speaks on these subjects. He is a graduate of Hastings College of the Law (1980) and Westmont College (1977).
Mike is the president and co-founder of the Mountain View School Foundation.  He is a past director & officer of the Nonprofit Support Center, Transition House (serving homeless families), the Foundation for Santa Barbara City College, and other charities.  He
received the 2001 Richard Abbe Humanitarian Award from the Santa Barbara County Bar Association.  He is a GLG Scholar (Gerson Lehrman Group Law Council) consulting on nonprofit and corporate law issues.
Mike lives with his wife and their two young children in California.