By Deepak Chopra, MD and P. Murali Doraiswamy, MD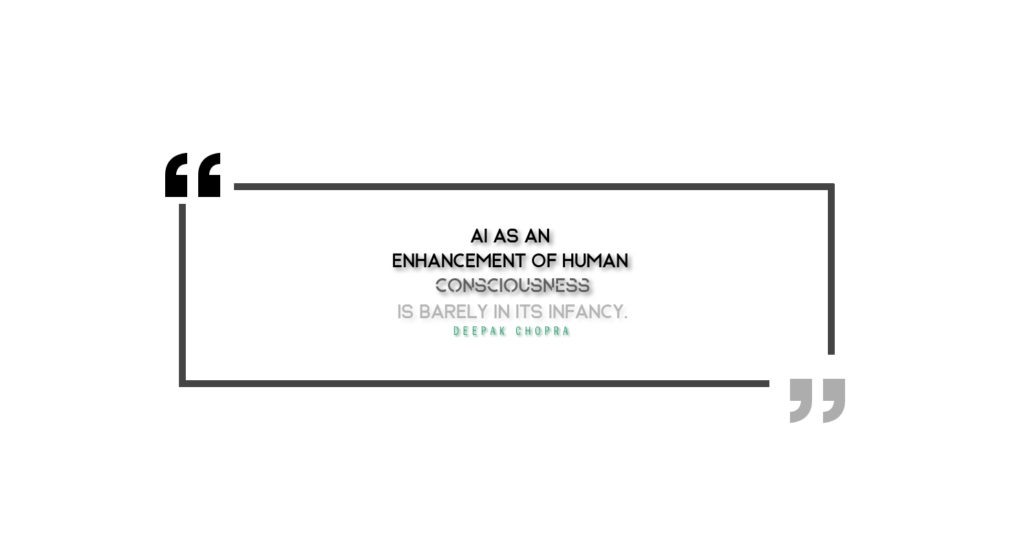 Artificial Intelligence (A.) has succeeded by being far-seeing; it's a field where proponents began by envisioning a computer that can take over functions of the human brain, like computation and logic. Today the field has progressed to the point where algorithms can recognize photos, speech and emotions, fly a drone or drive a truck, spot early signs of diabetes or cancer, and play chess and poker at a championship level. Now, in a leap that could be futuristic, absurd, or life-changing (nobody can predict which), the vision is of a robotics religion that worships an AI godhead.
Anthony Levandowski, known for his contribution to driverless cars and a pioneering visionary of AI, gained wide media attention by actually forming an AI church named The Way of the Future. He is searching for adherents, and foresees an AI godhead as not ridiculous but inevitable. As he told an interviewer from Wired magazine, ""It's not a god in the sense that it makes lightning or causes hurricanes. But if there is something a billion times smarter than the smartest human, what else are you going to call it?"
What saves The Way of the Future from being a very smart techie's lampoon is the enormous impact that AI is going to have everywhere. "Levandowski believes that a change is coming—a change that will transform every aspect of human existence, disrupting employment, leisure, religion, the economy, and possibly decide our very survival as a species."
Humanists are likely to worry about an AI future populated by false gods, but not before other doom scenarios might befall us. A super computer almost certainly would be weaponized into a super hacker capable of doing immense harm, from disabling security defenses to wrecking the banking system. Techies, on the other hand, foresee more utopian outcomes, one of which is the driverless car, which if perfected could reduce or eliminate the accidents caused by sleepy or drunk drivers. An AI god would be enlisted to solve every problem in a rational, efficient, logical way, and as more problems are eradicated, humans would have more reason to replace traditional religions, rife with mythology and irrationality, with a cleaner model.
But between doom and Utopia there is a third way. Leave aside the scenarios of a false machine god and a world where computers do all the work, call it Driverless Everything. The third way is based on something more modest but just as radical: relating to a machine as an equal. In the popular BBC television series Humans, which began airing in 2015, the premise of robots who have self-consciousness has come true. As an online blurb for the show says, "In a parallel present where the latest must-have gadget for any busy family is a 'Synth' – a highly-developed robotic servant that's so similar to a real human it's transforming the way we live."
Reality has already begun to catch up with this notion of a relatable robotic, in the form of robot cats and dogs that help the elderly feel less lonely and isolated. If a robot simulates human behavior closely enough, our nervous systems quickly adapt and accept it as, if not our equal, something we can consider humanoid. This prospect should excite humanists rather than frighten them, because one can foresee interactions with machines that would improve our psychology and even raise our consciousness.
Here are a few possibilities to consider that are well within reach.
A successful strain of therapy uses the tactic of getting patients to change their negative beliefs into positive ones. Cognitive therapy, as it is known, asks people to look at unrealistic notions they keep returning to and proving that other, more realistic notions will actually alter their wellbeing. For example, a self-defeating notion might be "Nothing ever works out for me." The therapist would have the patient think about things that actually worked out in their lives, throwing the blanket belief in failure into question. Then it could be replaced with a positive idea like "I don't actually know how things will turn out. Since some things turn out well, I will concentrate my efforts in that direction."
Why not replace the once-a-week therapist with a version of Amazon's Echo, a little gadget that you can turn to every time you have a negative or self-defeating thought? You'd tell the gadget your thought and then ask for three realistic replacements that are supportive of your well-being.
Wearables keep expanding in function every year, and someone has already conceived of a device that would monitor an array of mind-body variables to detect when a person is physically and psychologically in a state of bliss. Using biofeedback, the wearable could signal someone that they are in bliss, or out of it, and then the brain could be trained automatically to maintain this peak function.
In terms of consciousness, a device could be designed to detect when the brain is in a meditative state, using biofeedback to maintain and deepen this state. Bio-meditation might even get to the point where a super computer, instead of roughly monitoring delta, alpha, and theta waves, would zero in on every neural connection at any given moment, providing totally individualized meditation.
A.I. as an enhancement of human consciousness is barely in its infancy, but the third way, the territory between doom and Utopia, has no limits. A robo-guru  in the form of a super search engine, could store the sum of human wisdom and dispense it to fit a specific situation. Type in any spiritual tradition, East or West, ask a spiritual or existential question, and the robo-guru could offer advice as reliable, and informed, as a human.
But does this mean that one day we will actually relate to machine intelligence as the equal of humans? There will always be dividing lines. Asking a computer how its mother is doing at the retirement home or what it does when it's having a bad day would instantly expose the non-human aspect of AI. And yet there are halfway stages that stop short of full humanity. For example, it's been shown that people age better and have better health when there is a support system in place.
In his book Love and Survival, Dr. Dean Ornish, the leading authority on lifestyle changes as the key to preventing and reversing heart disease, has quantified how people who have from 3 to 4 social support systems fare much better in recovery from heart attacks and other major health issues than people with 0 to 1 means of social support. One can imagine "friending" a computer who is part of a social networking system that also includes human friends. This particular friend would interact with emails and texts that are concerned, informed, and personal. Over time, probably a matter of days, the difference between the robo-friend and human friends would begin to melt away.
The entire field of positive psychology could benefit from relatable AI, and it's within reason that AI could be useful in expanding human consciousness long before a super computer qualifies for divine status.  Each person will have to decide where the limits lie, and using AI to enhance human spirituality and consciousness is barely in its infancy. But the territory between doom and Utopia, is wide open.
Deepak Chopra MD, FACP, founder of The Chopra Foundation and co-founder of The Chopra Center for Wellbeing and Jiyo.com, is a world-renowned pioneer in integrative medicine and personal transformation, and is Board Certified in Internal Medicine, Endocrinology and Metabolism.  He is a Fellow of the American College of Physicians, member of the American Association of Clinical Endocrinologists and Clinical Professor at UCSD School of Medicine. Chopra is the author of more than 85 books translated into over 43 languages, including numerous New York Times bestsellers along with You Are the Universe (February 2017, Harmony) co-written with leading physicist, Menas Kafatos.  Other recent  books  include Super Genes co-authored with Rudolph E. Tanzi, Ph.D. and  Quantum Healing (Revised and Updated): Exploring the Frontiers of Mind/Body Medicine. www.deepakchopra.com 
Murali Doraiswamy, MBBS is a professor in the departments of psychiatry and medicine at Duke University Health System where he is also a senior fellow at the Duke Center for the Study of Aging and Human Development.  He is also an affiliate faculty in the Center for Cognitive Neuroscience at Duke University.