By Deepak Chopra, MD, Rudolph E. Tanzi, PhD
For at least two decades we've been living with a drastic revision of growing old. What is now dubbed the "old old age" prevailed for centuries; it was a set of beliefs that turned the aging process into inevitable decline physically and mentally. After a lifetime of work, people found themselves set aside, no longer productive or active members of society. Generation after generation these expectations came true. But everyone trapped in the old old age was mistaken to think such expectations were inevitable. Hidden factors were causing beliefs to turn into reality.
The "new old age," created by the baby boomer generation, threw out the previous beliefs, exchanging them for more optimistic ones, and by now we've grown used to a set of readjusted expectations. Millions of people over 65 haven't retired, and few have taken to the rocking chair. To be healthy and active one's whole life seems possible. But as much good as the new old age has done, it faced two major obstacles. The first was that aging itself has long been a mystery, not explained by medical science because too many changes occur over a lifetime, and these changes vary from person to person.  The second obstacle, assuming that aging could be defined, was how to reverse it.
An enormous leap forward in overcoming both obstacles was made by Elizabeth Blackburn, the molecular biologist who shared the 2008 Nobel Prize in physiology and medicine with Carol Greider and Jack Szostak for their discovery of telomerase, the enzyme that replenishes a section of DNA known as telomeres, which cap the end of each chromosome like a period ending a sentence. Telomeres are "noncoding" DNA, meaning that they have no specified function in building cells, but they are far from passive. Their function seems to be to preserve cells. Every time a cell divides, which happens constantly somewhere in the body, its telomeres are shortened. Longer telomeres are typical of young cells in the stage of luxuriant growth; shortened or frayed telomeres are typical of weary senescent cells.
Now the head of the Salk Institute in La Jolla, California, Blackburn covers every aspect of cell aging and renewal in her 2017 book, The Telomere Effect, co-authored with her close colleague, UCSF Professor and health psychologist Elissa Epel.  They convincingly describe telomeres and levels of telomerase in the cell as our best marker yet for the multifold process of aging. This also implies that by increasing one's telomerase levels and thereby causing telomeres to grow longer, a healthy lifespan can be founded on cells that keep renewing themselves for decades.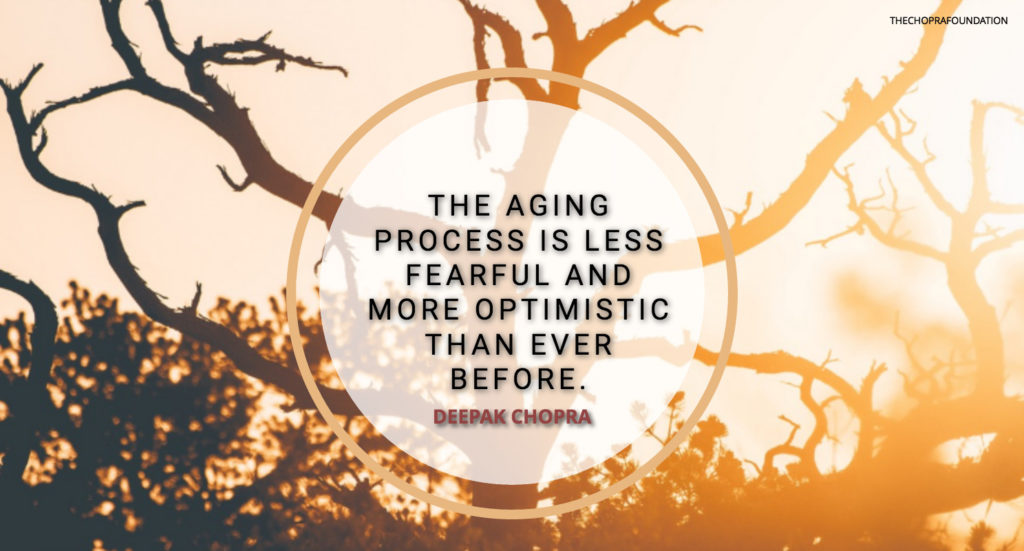 In their book Blackburn and Epel cite a startling actuarial prediction. There are currently around 300,000 centenarians existing around the world, a number that is rapidly increasing. According to one estimate, reaching one hundred is about to become so commonplace that one-third of children born in the UK will live to be centenarians—the issue of protecting your cells is suddenly more urgent than ever.  We highly recommend reading Blackburn and Epel's book–its wealth of information needs to be absorbed in detail. But the bottom line is to understand what puts your telomeres at high risk and low risk.
            Your telomeres are at low risk if you
Have no exposure to severe stress.
Have never been diagnosed with a mood disorder.
Enjoy strong social support, including a close confidante who gives good advice, friends who listen to you and with whom you can unburden yourself, and relationships where love and affection are shown.
Exercise moderately or vigorously at least three times a week, preferably more.
Get good-quality sleep for at least 7 hours.
Consume omega 3-rich food three times a week while avoiding processed meats, sugary sodas, and processed food in general. A whole-food diet is best.
Are not exposed to cigarette smoke, pesticides, and insecticides.
The opposite is also true.
Your telomeres are at high risk if you
Are being exposed to severe stress in your life.
Have been diagnosed with an anxiety or depressive disorder that lasted for many years.
Lack social support from friends and family.
Lead a completely sedentary lifestyle with no regular exercise, even light activity like walking.
Suffer from chronic insomnia or cut your sleep shorter than 7 hours a night.
Consume a diet high in fat, processed foods, and sugary sodas, with no attention to sufficient fiber and omega-3 fatty acids.
You are exposed to cigarette smoke, pesticides, insecticides, and other chemical toxins.
These summarize the research-supported risk factors presented in Blackburn and Epel's book, and as with any risk-based program, some people are more affected than others. Severe stress is one of the most thoroughly damaging factors—in one study, caregivers who tended Alzheimer's patients had shortened telomeres that predicted a shortened lifespan of between 5 and 8 years.
It's also significant that the lifestyle choices known to decrease the risk of heart disease, as originally devised by Dr. Dean Ornish at Harvard Medical School, have a beneficial effect on telomere length. Extending the program to cancer, Ornish had another impressive finding. A group of men with low-risk prostate cancer were selected for study (low-risk means that their cancer was at an early stage and slow-growing. Prostate cancer can take decades to advance and the current recommendation advises balancing the risk and reward of doing any active treatments, a change from the era when any cancer was immediately treated and usually aggressively).
The men were put on a variant of the heart-disease protocol: they ate a low-fat, high-fiber diet, walked for 30 minutes a day, and attended regular support group meetings. Stress management was included, and there was training in meditation, mild yoga stretching, and breathing. At the end of three months the group that was on the program had higher telomerase levels than the control group, which meant that their cells were aging better. Stress seemed to play a key role, because the greatest increase in telomerase occurred among the men who reported having fewer distressing thoughts about prostate cancer. Ornish followed some of the men for 5 years, and those who stuck with the program showed telomeres that had increased by 10 percent, reversing the usual expectation as cells age.
In short, the era of the new old age has shifted into the "Now old age," thanks to important Genetic findings by Blackburn and her colleagues, Ornish, and others. In a society addicted to the promise of a silver bullet, drugs may emerge to improve telomerase levels in the cell, leading perhaps to extended telomeres and effective anti-aging at the genetic level. But since no one can predict when such drugs will appear, and what side effects come with them, the best way to enter the now old age is through lifestyle choices, particularly those that counter stress and inflammation. The good news is that the aging process is less fearful and more optimistic than ever before.
Deepak Chopra MD, FACP, founder of The Chopra Foundation and co-founder of The Chopra Center for Wellbeing, is a world-renowned pioneer in integrative medicine and personal transformation, and is Board Certified in Internal Medicine, Endocrinology and Metabolism.  He is a Fellow of the American College of Physicians and a member of the American Association of Clinical Endocrinologists. Chopra is the author of more than 80 books translated into over 43 languages, including numerous New York Times bestsellers. His latest books are Super Genes co-authored with Rudy Tanzi, Ph.D. and Quantum Healing (Revised and Updated): Exploring the Frontiers of Mind/Body Medicine.  www.deepakchopra.com
Rudolph E. Tanzi, Ph.D. is the Joseph P. and Rose F. Kennedy Professor of Neurology at Harvard University and Vice Chair of Neurology at Mass. General Hospital. Dr. Tanzi is the co-author with Deepak Chopra of the New York Times bestseller, Super Brain, and an internationally acclaimed expert on Alzheimer disease. He was included in TIME Magazine's "TIME 100 Most Influential People in the World".