Join Deepak on his book tour of "The 13th Disciple" as he weaves together masterful storytelling, historical narrative, mystery and intrigue, to reveal surprising discoveries about the unknown last disciple of Christ, offering a new understanding of who Jesus really was in his final days. Enjoy an excerpt and audio of the book.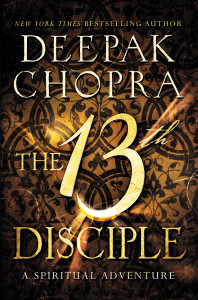 The-13th-Disciple-by-Deepak-Chopra-an-excerpt
The 13th Disciple: A Spiritual Adventure
Book Tour Schedule
Tuesday, March 31 – Detroit 
7:00 pm     Renaissance Unity Sanctuary
11200 E. Eleven Mile Road
Warren, MI 48093
Wednesday, April 1 – Washington, D.C.
7:30 pm     George Washington University Lisner Auditorium
730 21st Street NW
Washington, D.C.
Monday, April 6 – Houston
7:30 pm     Unity of Houston
Sanctuary
2929 Unity Drive,
Houston, TX 77057
Wednesday, April 8 – San Antonio
7:30 pm     Tobin Center for the Performing Arts
HEB Performance Hall
100 Auditorium Center
San Antonio, TX 78205
Friday, April 10 – Seattle
7:00 pm     Center for Spiritual Living
5801 Sand Point Way NE
Seattle, WA​