"Oprah's Lifeclass: the Tour" Featuring Co-Teacher Deepak Chopra and Guest Perez Hilton Premieres starting on, Monday April 23
Super Soul Sunday Features Oprah's Interview with Deepak Chopra In India on Sunday, April 29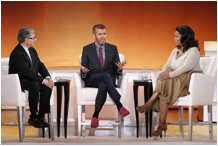 Deepak Chopra, Perez Hilton and Oprah Winfrey on stage for "Oprah's Lifeclass: the Tour" at Radio City Music Hall in New York City / Photo Credit: © 2012 Harpo Inc./George Burns
OWN: Oprah Winfrey Network will feature world-renowned thought leader Dr. Deepak Chopra in two programs this week, including "Oprah's Lifeclass: the Tour" as Chopra takes the stage alongside Oprah Winfrey at Radio City Music Hall in New York City to discuss Spiritual Solutions to air tonight, Monday April 23 at 8 p.m. ET/PT, then a one-on-one interview with Winfrey and Chopra from India on Super Soul Sunday to air this Sunday, April 29 at 11 a.m. ET/PT.
"Oprah's Lifeclass: the Tour" Spiritual Solutions (begins Monday, April 23 from 8-10 p.m. ET/PT)
World-renowned thought leader Deepak Chopra joins Oprah to help viewers find spiritual solutions to life's most difficult problems. They talk to Gossip blogger Perez Hilton talks about his path to spiritual awakening and how it has impacted his business and a mother living with worry, guilt, anger and fear after all three of her daughters were in a crippling car accident 12 years ago. Through Facebook, Twitter, Skype and an audience of more than 5,000 in New York's Radio City Music Hall, Oprah and Deepak will take questions from Lifeclassers all around the world. This inspiring episode will teach viewers how to connect to something greater than themselves, live fully in the present and dissolve negative thoughts to create richer, more joyful lives.
Sneak peek of the Spiritual Solutions episode: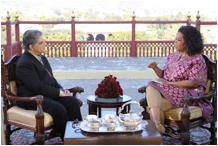 Deepak Chopra and Oprah Winfrey in India / Photo Credit: © 2012 Harpo Inc./George Burns
Super Soul Sunday "Oprah And Deepak Chopra In India" (Sunday, April 29 at 11 a.m. ET/PT)
In a special, one-hour "Super Soul Sunday," Oprah Winfrey sits down with world-renowned thought leader Dr. Deepak Chopra who was the inspiration for her recent trip to India. Dr. Chopra joins Winfrey for a revealing conversation about his ground-breaking work in the field of mind-body medicine, the life lessons he's learned from his parents and family, and the influence that India's rich cultural traditions have had on his journey. He also describes his recent life-changing experience as a Buddhist monk in Thailand.
Sneak peek of Super Soul Sunday: Deepak and Oprah