Gotham Chopra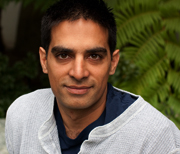 Gotham Chopra is a multi-media voice in the worlds of entertainment, news, spirituality and pop-culture. His book, Walking Wisdom (Hyperion books), which is about all the love and licks that go along with being a dad, a dude, a dog-owner and son of Deepak was published in 2010. His next book – in collaboration with Deepak – The Seven Spiritual Laws of Superheroes – was released in June 2011. He is also currently directing his first feature documentary film set to be released this coming fall.
Gotham is also the co-founder of Liquid Comics (formerly Virgin Comics and Virgin Animation), a premiere entertainment company based in Los Angeles and Bangalore India. As part of the company, Gotham works with creators to develop graphic novels and is also responsible for packaging and producing the books as they evolve into games, films, and more. At present Gotham is collaborating with notable talents like John Woo, Guy Ritchie, Nic Cage, Hugh Jackman, John Moore, Ed Burns and more as well as media companies like Twentieth Century Fox, Warner Brothers, Universal Studios, Sony, Freemantle, Reliance, UTV and others.
Gotham is the author of five books, including the graphic novels Bulletproof Monk for which he also served along with John Woo as Executive Producer on the feature film produced by MGM Studios (2003) and The Sadhu which he is also currently adapting as a feature film with the director Tarsem Singh. Formerly an award winning journalist and documentary film-maker, Gotham reported from countless warzones and has interviewed a wide range of Global leaders – from President Bush to the Dalai Lama. He also served as researcher and lyrical advisor to Michael Jackson on the multi-platinum albums Dangerous and HIStory. More recently Gotham was integrally involved in the formation of Current TV, co-founded by former Vice-President Al Gore which launched in August of 2005. Gotham remains a contributor and key advisor to the network as it continues to re-define and democratize the "television experience."
Gotham's varied experience in journalism, publishing, and entertainment had him identified by Newsweek Magazine (March 04) as one of the "most powerful and influential" South Asians worth watching. He blogs regularly at www.intent.com which he co-founded and thinks is "pretty awesome" as well as www.huffingtonpost.com. Contrary to his "spiritual upbringing," He lives and dies by his hometown Boston sports teams, which he thinks in pretty spiritual.