By Deepak Chopra, M.D, FACP, and Menas Kafatos, Ph.D.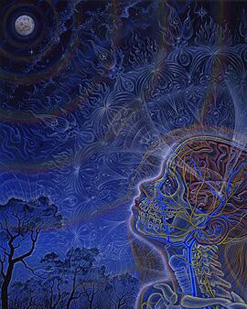 We are so used to assigning consciousness only to human thought that it takes some adjustment to see it as universal, or cosmic, applying at all levels. But the label applied to mystics, saints, and sages, both East and West, really denotes those who have escaped the limitations of everyday perception. Their experiences supply abundant evidence – thousands of years' worth – that the mind can look at itself and experience what consciousness is.
If you strip away all religious associations, higher consciousness is observational and experiential; the mind looks directly at itself rather than outward at things. Things constitute Maya in the Indian tradition, a word somewhat misleadingly translated as "illusion" but which works better if understood as "appearance" or "distraction." It also implies impermanence.  The world "out there" appears to be self-sustained, distracting us from the truth: Without consciousness, nothing is experienced, either "in here" or "out there."
Cosmic consciousness, then, isn't just real – it's totally necessary. It rescues physics and science in general from a dead end – the total inability to create mind out of matter – and gives it a fresh avenue of investigation. The Higgs boson has gotten us a bit closer to a unified field theory – only a bit – but we are still far away from a full theory of quantum gravity. In many versions of superstring theories, the so-called M-theories, it is deduced that a vast number of parallel universes exist, all forming what is called the multiverse. But the multiverse cannot be an explanation of why this particular universe of ours is what it is. Having a vast number of universes emerging from empty space still does not explain why consciousness is what it is in our universe.
Quantum theory has reached the point where the source of all matter and energy is a vacuum, a nothingness that contains all the possibilities of everything that has ever existed or could exist. These possibilities then emerge as probabilities before "collapsing" into localized quanta, manifesting as the particles in space and time that are the building blocks of atoms and molecules. (more…)