By Deepak Chopra, MD
Most people look upon enlightenment—whatever the term means to them-as remote, exotic, and unattainable without extreme effort. Enlightenment is the state a Tibetan Buddhist monk may reach after decades of mediation, or a yogi performing esoteric practices in a cave in the Himalayas. Yet if you strip away the Eastern esoteric context that has become attached to the word "enlightenment," whatever it is must be a state of awareness. You can't be enlightened and not know it. (Or if you don't know it, you must have slipped into this state of awareness very, very gradually.)
The normal states of awareness are waking, dreaming, and deep sleep. They have in common that they are natural phenomena that require no self-awareness. Enlightenment is different, in that you consciously attain it, through whatever practice you choose. Because it has been considered subjective, any form of expanded self-awareness has been looked upon with suspicion in the West, which overlooks the fact that all kinds of states are subjective, such as being in pain or in love, feeling satisfied or curious, wanting to succeed, and so on. Our inner life is real, but each of us relates to it in a different way.
Your inner life determines if you are creative or not, empathic or not, insightful or not—and many other things, such as being happy, fulfilled, loving, depressed, anxious, etc. But enlightenment seems to be impersonal. No matter what kind of mental life you have, when you experience an enlightened state, you enter a spectrum of self-awareness that isn't just one thing, but it does have common features, like the symptoms of catching a cold. These features include the following: emotions even out with fewer highs and lows; one feels a sense of detachment that isn't involved in life's everyday drama; the body feels lighter and perhaps disembodied; thoughts are fewer and tend to relate to the situation at hand—there is far less dwelling on the past or anticipating the future. More variable but also present are enhanced  qualities of awareness such as becoming more blissful, loving, creative, insightful, self-confident, independent, and unswayed by outside forces.
In one way or another these features appear in everyday life; they just happen to be temporary and occasional. The fact that anyone can recognize, at least a little, what expanded self-awareness is like tells us two things. One, the enlightened state is normal and natural rather than exotic and eccentric. Two, it can be learned. These two insights are quite contemporary. The ancient wisdom traditions tend to set enlightenment apart from everyday existence. In India, for example, serious spiritual pursuits are saved for the end of life after a person has raised a family and retired.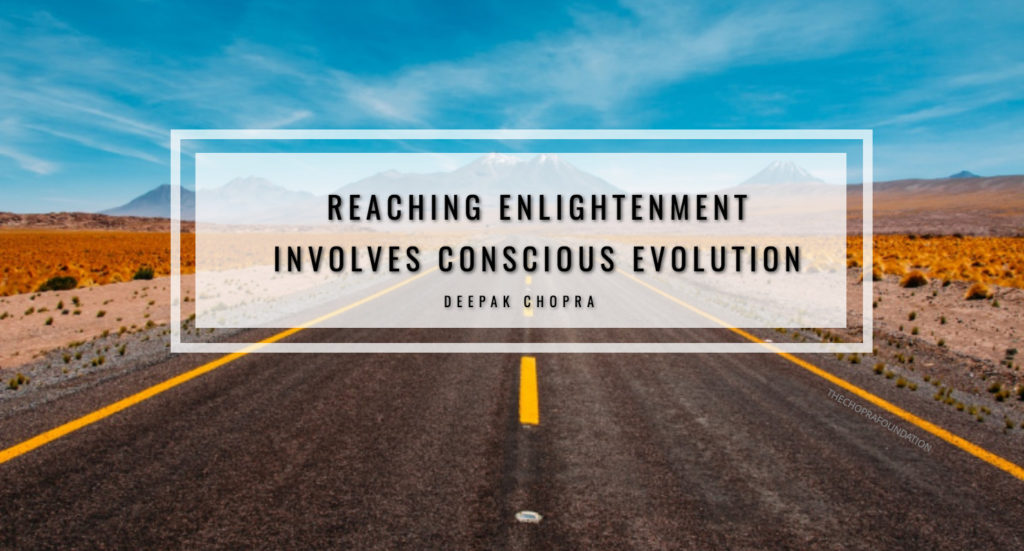 Yet much of this sequestering was due to simple functional realities. In the ancient world survival was difficult, disease common, and social forces repressive. Expanded awareness is a form of personal freedom, which was very hard to attain if you led an ordinary life without the time and space to look inward. But it was never denied that enlightenment belonged to everyone. It was an open possibility, the only requirement being that you were aware enough to desire more awareness (which isn't true of every person, even today). In short, reaching enlightenment involves conscious evolution. Like any other skill that build upon a basic mental function, like higher mathematics or learning three foreign languages, awareness has its own skill set.
The primary skills are focus, attention span, and intention. We all possess these skills in rudimentary form, and anytime we want, we can become more skillful, to the point of master. Swamis who can change their body temperature or endure extreme cold or bring their breathing almost to the point of cessation are doing these things in awareness. Intense focus, sustained attention, and strong intention don't simply belong to swamis and yogis. You need them to graduate from law or medical school, for example.
Yet along the spectrum of expanded awareness, when you get past all the changes just cited, a sort of ultimate question arises. What is awareness itself? To make ice, you put water in the freezer; to produce stream, you subject water to high heat. It's observable that water is the basis for these transformations. Yet as our minds undergo all kinds of transformations (in thought, feelings, sensations, moods, etc.), it's not obvious at all what awareness is like before it gets manipulated. In the state of enlightenment, you have no more doubts on this issue. You know pure awareness as a personal experience.
This gives rise to a path of personal evolution known as the direct path. The direct path holds that pure awareness is with us all the time. It's not a learned state, a philosophy, a skill, or anything extraordinary. When the mind is at rest and a person exists in a simple, undisturbed state, the experience comes close to being pure awareness. Instead of being transformed into thoughts, feelings, sensations, etc., your awareness simply is.
Then what? Then you are self-aware without complication. By definition, the first thing awareness can be aware of is itself. To be aware of a chair, you have to look outward. To be aware of feeling happy, you have to look inward. But to be aware that you exist in this moment, no movement in or out is required. The direct path therefore offers a form of instant enlightenment. Right this minute you know that you are aware, without the need to be aware of something "in here' or "out there." This recognition of the ground state of the mind isn't immediately transformative. Having identified with mental activity all your life, it takes a major shift to identify with silent mind. If you become fascinated and curious about the state of pure awareness, over time it does bring transformation. As awareness continues to explore itself, you start to experience changes along the spectrum of enlightenment—the symptoms start to show up.
But the direct path is valuable in and of itself by pointing out that higher states of consciousness are hidden in plain sight—they are expansions of a normal, natural state. To know this without the trappings of religion, Eastern exoticism, and other biases has been one of the major achievements of modern spirituality, which can now be redefined as the exploration of consciousness in all its infinite possibilities.
Deepak Chopra MD, FACP, founder of The Chopra Foundation and co-founder of The Chopra Center for Wellbeing, is a world-renowned pioneer in integrative medicine and personal transformation, and is Board Certified in Internal Medicine, Endocrinology and Metabolism. He is a Fellow of the American College of Physicians and a member of the American Association of Clinical Endocrinologists. Chopra is the author of more than 80 books translated into over 43 languages, including numerous New York Times bestsellers. His latest books are Super Genes co-authored with Rudy Tanzi, Ph.D. and Quantum Healing (Revised and Updated): Exploring the Frontiers of Mind/Body Medicine. www.deepakchopra.com