By Deepak Chopra, MD, and Jordan Flesher, MA Psychology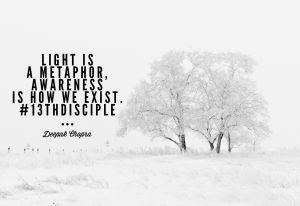 Two views of the universe have been contending with each other to explain why human beings exist. The first view holds that human beings are not special in any way. We evolved through random events that have accumulated over time, taking 13.7 billion years since the big Bang to arrive at the most complex structure in creation, the human brain. This view, long established in physics and biology, constructs evolution in the absence of mind. Matter came first, and mind emerged very late in the game.
The contending view, held by every wisdom tradition, holds that mind came first. The universe is a field of consciousness, which made it inevitable that conscious creatures would evolve over time. Using our self-awareness, humans recognize order, harmony, beauty, truth, love, balance, equanimity, creativity, and the other qualities essential to consciousness. Over the course of our evolution as a species, we have come to embody these qualities. Therefore, the link between humanity and the universe is intimate, to the extent that the only creation we experience is the human cosmos.