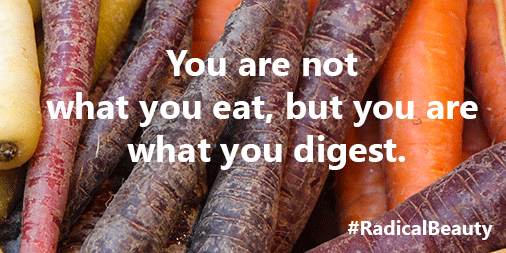 By Deepak Chopra, MD and Kimberly Snyder, CN
The pursuit of beauty, which has been a constant theme throughout recorded history, makes beauty seem like a mysterious gift granted only to the fortunate few. Even now in a scientific age, there's the constant search for beauty secrets that will bring this gift to many more people. In fact, such a secret does exist, in our view. Instead of saying, "If I'm beautiful I will be happy, the secret is the reverse: "If I'm happy, I will be beautiful."
This is the axiom of finding beauty from the inside out. There is a rising tide of evidence to show that our cells immediately respond to the inner events in our lives. Being unhappy is a state of mind and body, not simply the mind. There are medical consequences in terms of decreased immune response, for example, among people who are depressed, grief-stricken, lonely, or who have been suddenly terminated from their jobs. This isn't news. What's news-worthy is the finer detail, which indicates that no matter how microscopic the scale, all the way down to our genes, shifts in mental activity produce shifts in the wellbeing of cells.
Let's accept for the moment that the best way to be beautiful is to be happy.  Does that really improve the situation? The field of positive psychology, which is relatively new, has discovered that being happy isn't a simple thing where one prescription works for everyone. And finding a path to increased happiness is tricky. Each of us has a kind of emotional set point we return to as our default. An outside event can cause the needle to move, making us temporarily happier than usual or unhappier. But over time we return to our emotional set point, even after the most extreme events.
Yet happiness is still the key, because two findings from positive psychology appear to be solid. The first is that a happy life is made up from happy days. In other words, waiting to be happy isn't effective. Being happy today, here and now, is the best strategy. This ties in with the finding that our cells react to our moods. If you work for twenty years at a job that makes you miserable, waiting for retirement day so that you can finally be happy, then during those twenty years you amass cellular changes, including pathways in the brain, that imprint misery–something you will be carrying around biologically and psychologically for many years into your retirement.
What makes for a happy day? In the first post of this series we reduced this question to a matter of input. Our cells recognize only negative input and positive input. Experience is translated into chemicals that either benefit a cell or harm it. Therefore, by focusing on giving the mind-body system positive input every day and decreasing negative input, you are adding to your well-being overall. Here's a sizable list of positive inputs to pay attention to, as first stated in our last post:
Pure food, water, and air.
Avoiding physical and emotional toxins.
Unprocessed, natural, organic food.
Nurturing relationships.
Good sleep.
Exercise that favors lightness, balance, flexibility, and gracefulness.
Attitudes of appreciation and gratitude.
A higher vision of life.
Service to others.
Satisfying, meaningful work.
Mediation and yoga.
Increased self-esteem.
The sense of being in control.
Feeling safe.
Feeling as if you belong.
Daily close contact with family and friends.
Generosity of self through acts of giving.
Being loved and loving in return.
As a practical matter, you can keep a journal that tracks these positive aspects of life, while at the same time tracking the negative aspects, which are simply the opposite of everything on the list. Most of these things are directly under your control, such as deciding to meditate, and others, such as being in a loving relationship, are things you have a voice in.
So choosing to be happy involves meaningful decisions, which brings us to the second discovery about how to be happy. Despite the effects of outside people and forces pulling against your happiness, and despite the emotional set point, it is estimated that 40-50% of a person's happiness is dependent on choices made or not made. This is simply an average. It's likely that some people grow much happier than the norm once they make steady, conscious, positive choices. We already know that such people have much better physical health than the norm, so it's only logical that the same applies to wellbeing. In our view, "If I'm happy, I will be beautiful" is the beauty secret everyone has dreamed of.
Deepak Chopra MD, FACP, founder of The Chopra Foundation and co-founder of The Chopra Center for Wellbeing, is a world-renowned pioneer in integrative medicine and personal transformation, and is Board Certified in Internal Medicine, Endocrinology and Metabolism.  He is a Fellow of the American College of Physicians and a member of the American Association of Clinical Endocrinologists. The World Post and The Huffington Post global internet survey ranked Chopra #17 influential thinker in the world and #1 in Medicine. Chopra is the author of more than 80 books translated into over 43 languages, including numerous New York Times bestsellers. His latest books are Super Genes co-authored with Rudolph Tanzi, PhD  and Quantum Healing (Revised and Updated): Exploring the Frontiers of Mind/Body Medicine.  www.deepakchopra.com
KIMBERLY SNYDER, C.N., is a nutritionist and the New York Times bestselling author of the Beauty Detox book series. Snyder has appeared as a nutrition and beauty expert on Good Morning America, Dr. Oz, Ellen, Access Hollywood, The Doctors, and Today and has been featured in the New York Times, the Wall Street Journal, Vogue, Vanity Fair, Elle, InStyle, as well as many others. The go-to nutritionist for many of the entertainment industry's top performers, Snyder is also the creator of Glow Bio, an organic juice, smoothie and cleanse company. She hosts the top-rated podcast Beauty Inside Out on iTunes, and her blog, website, and products have spread the Beauty Detox movement to more than 150 countries. For more information, visit KimberlySnyder.com and  RadicalBeauty.com.